Anyone who reads this blog closely or follows me on Twitter would know that I am at a bit of an identity crisis of sorts in gaming. I made this blog and Twitter with the sole purpose of talking Hearthstone. Lately, I've had issues with Hearthstone, mainly precipitated by my not enjoying the changed Arena format. I actually did not realize that I liked the Arena so much. In my taking a sabbatical from Arena play, I can barely play the game anymore.
By sinking in less time into Hearthstone, I have opened up time for other games. Notably, I am playing three other card games in addition to Hearthstone. Yu-Gi-Oh Duel Links is the mobile game I have played since January and podcast about. Shadowverse is the secondary card game I played probably once a week, now more regularly. Gwent is a new card game released in open beta that I am trying out. Playing all these games together has given me some ideas which lead to this post. Why do we play games nowadays?
The changed landscape
Gaming has evolved tremendously since I was young. While I wasn't around for almost all of the 80s, I can say I sampled my share of old games. And by old games, I mean titles from SNES and Sega Genesis. I didn't really play games regularly until my family got a computer, and I have been primarily a PC gamer since. The main evolution in gaming, besides the obvious upgrades to gameplay, graphics, and design, is the ubiquity of the Internet, and the ability to play games with people you've never met physically. I admit that I was playing games alone for a really long time, and it wasn't until I started playing Diablo III that I started to play games with other people.
The fusion of gaming and Internet has not only changed the landscape of gaming, and also the reasons why we play games now. Back when I was playing Operation: Inner Space in my cold basement or Syphon Filter 3 in front of the TV, I can say I did it for fun. Sure, I wanted to set high scores in Inner Space and unlock secrets in Syphon Filter. But now the reasons are more complex and varied. I will try to dig into the reasons why we game using the games I am playing concurrently as an example.
For fun
The generic umbrella reason for why we play games. Games are a hobby and it is something we do for fun when we're not doing something else (more important) in life.
I have played Hearthstone almost daily since December 2013. While I have taken breaks now and then (including now lol), my enjoyable experiences have kept me in the game for all these years. I have logged thousands of Arena games just because I found it so fun. Arena is known for not being the most generous when it comes to rewards. You don't make the 3.33 gold/win you get in Ranked play and even in Casual. According to Hearthstone, I have 3710 Arena wins. This equates to 12,366 gold I missed out on because they were Arena wins. When it comes to my enjoyment playing Hearthstone, it lives and dies with Arena.
As mentioned before, my relationship with the Arena is currently strained. The fun factor is mostly gone as the Arena revamp with Patch 7.1 coupled with Journey to Un'Goro cards has brought on never-ending reactionary play and big power creep on card quality. And truthfully, it isn't because I'm losing significantly in the Arena now. It's important to note that these are just my feelings (and some other players), and not those of the entire Arena community. I don't know if most people share my feelings on the Arena changes. I'm sure people who enjoy Control decks are having a blast.
To fill the void in gaming fun, I have resorted to the other card games. I am having a really fun time playing Gwent,  mostly from the Casual game mode available to me. As someone who is completely foreign to The Witcher universe, I have no idea what the underlying story is. I don't even know what the ubiquitous keg-opening character is called. A lot of the fun is derived from the game just being a new experience, and a break from the Arena. I am also playing Shadowverse a bit, though the game hasn't gotten more fun than before. I'll explain later.
For fame
Those who graduate past the notion of playing games just for fun are more ambitious in the hobby and want to make something of their gaming career. By playing a game at a high enough level, one can be known for something, and springboard off a new height. This is a new development in gaming, given people were not connected to the Internet to track scores back in the day. It likely started with the seeds of eSports, and have known people play games. All four of the card games I am playing have leaderboards, with your legend tiers, points, or high scores. And by playing at a high enough level, you get invited to participate in tournaments. In the end, you fight the final boss (real life person) for a trophy. Gaming is just like real sports now!
Alternatively, you can achieve fame by doing something with your gaming experience. All of the "creation" nowadays associated with gaming, your streaming, recording, blogging, podcasting, and drawing would all fall into this category. A lot of people I follow on social media and associate with would fall into this category.
In all honestly, I started this blog for a reason. I wanted to be known in the Hearthstone community as an all-purpose writer who talked about Arena a lot. I had ambitions that it would all lead to opportunities in my future. While those dreams are at a moribund state, I was able to meet and talk to a lot of people in the process of creating the blog.
For money
Those who become really famous for gaming may eventually reach the top tier of gaming for money. There are those who are full-time video game players for a living, making money through tournaments, streaming, endorsements, and donations. Others work for a living or go to school, and have supplementary revenue streams from gaming. Obviously, gaming for money didn't happen for decades, and is just a recent development.
Unfortunately, the window of gaming for money is closing for existing games, as the market is gets more and more saturated. Gamers who enter the game (lol) later are at a bigger disadvantage, as they have to compete with existing players and personalities. It is a more prudent idea to try to forecast the next big game, and become an established player in that realm. For example, it is much really difficult to make a name in Hearthstone, given it has been in existence for close to 4 years. Your big name competitive Hearthstone players are mostly making money with their streaming brand now. It has become really difficult to make a name for yourself, with so much competition. This goes for other forms of creation in Hearthstone. I doubt that a newbie bug-finder can dethrone Disguised Toast at this point.
It could be easier to game for money in newer games. Notably, Lifecoach has become the first professional Gwent player signed to a team. Right now, I don't think there are any Duel Links players who play the game for money, but that could change, given the World Championships coming in August. I do not know if there are Shadowverse players who game for money. The challenge is knowing if the game will stick around for the long term, long enough for your efforts to come to fruition.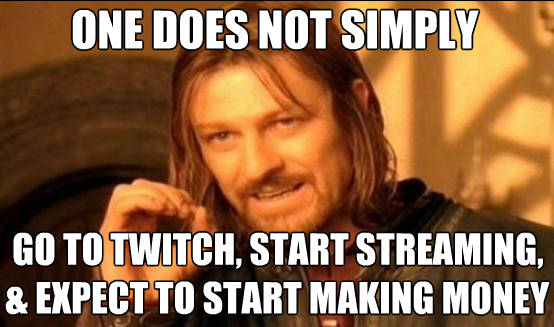 For community
Gaming has always had an occasional social aspect, as multiple people playing a console was a way to hang out. As a kid and teenager, I fondly remember going to friend's houses to play video games for hours. With the availability of Internet, the social aspect of gaming has evolved into playing games with people online.
In the Blizzard world, Battle.net was once the site you used to connect to online servers. Now known as the Blizzard Launcher, it is a one-stop-shop with an instant messaging list to your friends, online news, etc. Hearthstone has quests for playing games with friends, and now allows questing to be done in friend games. Duel Links has the Vagabond sharing system with friends. Spectator mode is another aspect that gives a social aspect to gaming.
For rewards
In my card game carousel discussion, I mentioned I am playing more Shadowverse than in the past. This is because they are offering doubled rewards for completed daily missions. This means 2 free card packs for 4 Ranked Wins, or 100 rupies for 4 wins with x class. The rewards are so good that Shadowverse isn't the second fiddle card game for this month. They also have the Freshman Lou promotion, so I am trying to earn those card sleeves.
Shadowverse has really exemplified the gaming for rewards aspect. We are playing games for in-game currency, so we don't have to (or spend less) spend real money. This is something that clearly didn't exist in older games. You bought your game at the store or online, and you paid it. That ended the spending. In the age of Internet and microtranscations, companies want you to continually spend money on a game, by adding more new features. It really is an interesting thought to think we are playing a game a lot because we don't want to pay for it.
For experience
A lot of people play new games for the sheer experience of trying something new. Trying new games has numerous advantages, as you can discover really fun aspects of games that are not apparently obvious. Steam is now the go-to source for PC gamers to get access to a wide swath of games. Monthly Humble Bundle deals allow one to discover a lot of new games at a low price. One can also purchase old games online, though this is mostly a thing done on consoles now.
My fun playing Gwent is mostly a gaming for experience venture. Given all the comparisons to Hearthstone, I just had to play the game to see for myself. What I discovered is that Gwent is nothing like Hearthstone, and is just linked to it because of Lifecoach's endorsement of the game. Part of the new experience is learning names in Gwent and trying to understand the unexplained rules in the game.
In climbing the Shadowverse Ranked ladder, the experience is turning less fun, as I start seeing the same "good decks." I typically go in as a Tempo Runecraft deck, which is not a meta deck in a class that primarily plays the fun and interactive Dimensional Shift deck. However, I see a lot of Forest Roach decks, and Heavenly Aegis Haven, popular climbing decks. In Hearthstone, seeing the same variants of decks was always second nature to me, and something that was burned in the brain as normal. Going into a game like Shadowverse, the same emphasis on bringing the same good decks still applies, but I was just not inured to it.
For loyalty
By loyalty, I mean loyalty to a brand or franchise. It is unlikely that Hearthstone would've been the success it is without being under the "Heroes of Warcraft" title and Blizzard flagship. People who bought WoW, or Diablo, or Starcraft were willing to give Hearthstone a try since it was made by Blizzard. This is not unlike buying a brand of clothes or car. Trust is earned through reliable workmanship and satisfaction.
I bought into the loyalty to Blizzard games long ago when I first played Diablo when in 1997. Then I played Starcraft, Warcraft III, Diablo II, and flash foward to Diablo III and the Bnet launcher era. Who knew that entering the Cathedral, and spending hours and days walking (couldn't run back then) through the labyrinth in Diablo would lead me to everything else Blizz has now.
The gaming for loyalty aspect is a also big reason for why I started playing Duel Links. @hsdecktech posted some screenshots one day on Twitter, and I haven't put down the game since. My enjoyment playing the Yu-Gi-Oh TCG in 7th and 8th grade awoke, and I destined to relive the nostalgia I had playing cards. And this is allure to Yu-Gi-Oh is not a unique thing, as Duel Links is catching on like wildfire, hitting 45 million downloads recently. Konami created a great franchise, buoyed by a TV show and card game, and that loyalty now it is manifesting in Duel Links' popularity.
For fulfillment
Back in the day, playing a game for a new high score at the end was the goal. When my ship blew up in Operation: Inner Space, I wanted to get on that leaderboard. This isn't lost in today's games. In Hearthstone, competitive players have a goal of hitting Legend in Ranked Play. Some just want to do it, for the sake of doing it, and others have the goal of hitting it every month. This is playing games for fulfillment. You're trying to hit a goal. Another common fulfillment goal in Hearthstone is getting golden characters. While getting Legend and golden characters technically result in rewards, it is more of a set goal, as the rewards are paltry.
As an Arena guy, hitting 12 wins for the Lightforge Key was a sense of fulfillment. I tracked my 12 win runs for a time with screenshots. I set a goal to hit 12 wins for every class, and that is something that still eludes me. I've never hit Legend in Ranked, but getting Golden Rogue was very satisfying.
Gaming for a sense of fulfillment really is a fascinating thing. Most of it is how one derives fun, by continually winning. I wouldn't have fun if I lost a game many times. Some of it is fueled by competitive drive. Some of it is fueled by Obsessive-Compulsive Disorder. But you're sinking in hours into a game for something that isn't even tenable. And by not hitting the goal, you could become angry or depressed (usually both). Crazy right? But hey, it is the reason many play games now.
Well, that's all I have to say about why we play games in these present times. There probably are a lot more reasons out there, but this post is long enough already. Why do you play games?